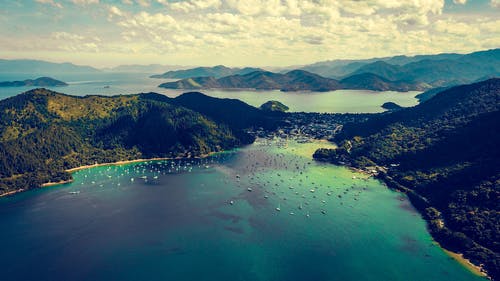 Clark Weeks Loves Sailing – Virgin Island Recommendations
Clark Weeks sailing recommendations. He loves sailing along with other water sports, from underwater hockey to scuba. The Virgin Islands, both US and British are a wonderful place to sail. There are many boat charter companies to chose from. Once you have selected your charter company, you then get to choose between a mono-hull or a catamaran.
If you have never sailed a catamaran before, it is actually easy to get used to. One nice feature is that they have an engine in each hull and by controlling the two motors you have a lot of control when you maneuver.
Another nice thing is that you can put kids in the cabin in one hull and have privacy in the other hull for yourself. Or, you can go with another couple and each has a cabin in a separate hull making for more privacy and intimacy!!!
Here is one possible way to go. Fly into Charlotte Amalie in the island of St. Thomas in the American Virgin Islands. Get your boat and prepare to take off by stowing your gear and getting provisions in the shops there. Then have a nice dinner in one of the many restaurants. As a suggestion, you might order the fried plantains, they are great. Sleep on the boat and get it organized and set sail early the next morning.
Jost van Dyke
Head out of the harbor while avoiding the large cruise ships and head east. Once you clear St. Thomas, head north between St. Thomas and St. John and make for the island Jost van Dyke in the British Virgin Islands. Anchor in Diamond Cay between Jost van Dyke and Little Jost van Dyke. Why here? Foxy's, of course. When you picture a bar and restaurant in the Caribbean, this is what you are picturing.
There are palm trees and you could say the building is rustic. It is made of old wood and is mostly a roof and a wood floor with no walls. The atmosphere is laid back and its just a fun time.
Virgin Gorda – Bitter End
The next day sail east to the island of Virgin Gorda and moor off of the Bitter End Yacht Club. You will see a lot of other charter boats but very likely some very large yachts as well. The Bitter End has hotel rooms you can rent and there is a great restaurant. Unlike Foxy's which is almost more like a shack, the Bitter End is much higher end.
Hurricane Maria
Both Foxy's and the Bitter End were badly damaged by Hurricane Maria that also destroyed Puerto Rico. They had to do a lot to rebuild along with many other places in the Virgin Islands. Besides Clark Weeks just sailing for fun, he also believes we should all help people who have been affected by disasters. If you want to find out more, or donate, go here.
The Baths
From the Bitter End, sail back along Virgin Gorda to its other end to get to the Baths. Why go to the Baths? Because, it is an odd formation of large boulders on the beach and in the shallow water. In addition, it is a fun place to walk around and explore and to snorkel around.
Ginger, Cooper, Salt Islands
From the Baths, you can sail to any of 3 islands in a row and do some snorkeling, moor off Cooper Island Beach Club and have a nice meal. It is a shame because while there is a lot of nice snorkeling, you can also see a lot of places where there is coral bleaching and damage to the coral.
Peter Island
But you really want to end up at Peter Island which is just past Ginger, Cooper and Salt. Anchor in Deadman's Bay. It can be difficult to find good holding ground here. In addition, you need to be careful not to hook the anchor on anything growing on the bottom. You are here for the snorkeling but the food. Deadman's Beach Bar & Grill has amazing food. Definitely worth stopping here. You are also likely to see some celebrities there and some very fancy yachts.
Norman Island
Norman Island is a pirate island. When a Spanish galleon ran aground off the coast of North Carolina, it was looted by 2 brothers. One went aground himself, but the other made it to the Virgin Islands and to uninhabited Norman Island. When people from nearby islands started asking questions, they buried the treasure. Supposedly, a chest of silver was discovered in a cave there not that long ago. Besides that, there is good snorkeling or scuba diving in caves there and a number of little bays around the island.
From Pirates Bight in Bight Bay you can hike up a dirt road to the top hill on the island and get to work off some of the pounds from the good food and drink. Since there are no trees, just grasses, there is a great view from there.
Cruz Bay
Finally, sail back into US territory and stop in Cruz Bay to go through Customs. Then sail across from St. John where Cruz Bay is back to Charlotte Amalie on St. Thomas and pack up. Enjoy a meal at one of the great restaurants then and get ready to catch the plane back home.
We hope you enjoyed these Clark Weeks sailing tips for the Virgin Islands. It's a fun vacation and well worth doing. Check out other travel stories on this site.